Date Ideas For Dating With A Disability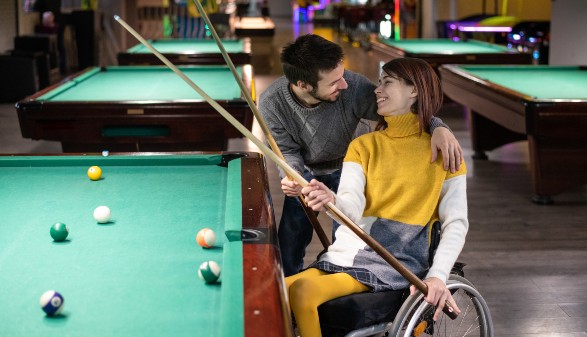 Online dating can boost your confidence and make you feel desirable. After swapping messages and perhaps meeting via a video call on disability dating sites, the time will come when you want to meet someone in the real world. This can be nerve-wracking but that first date might be the start of a great love story or a fun adventure.
Date Ideas For Dating With A Disability
Everyone has individual needs and it is OK to say what type of date will work for you. There is no point pretending you are someone you are not.
Equally, it also creates a great first impression if you show you care about what will make the other person comfortable and happy. Check out some wonderful date ideas for dating with a disability that would be perfect for members of Single Disabled.
Enjoy the great outdoors
Getting outside is good for us physically and emotionally. You really can't beat a good dose of Vitamin D when it comes to boosting your mood. If you are feeling upbeat, the chances are your date will get off to a fabulous start.
Talk to the animals
If you go to a local nature reserve, it feels easy to talk in a relaxing environment particularly when there are animals around. Usually this is a free or low-cost date idea so all the financial pressure is off. An alternative idea is to head to a zoo.
Pro Tip: Focus on what you can do
If you or the person you are dating is wheelchair bound or has mobility issues, check out the venue in advance to see how accessible it is. You may not be able to go on a hike but you may be able to find a location with paved routes.
Take a picnic
If you don't have a forest or wetlands reserve on your doorstep, even a picnic in the local park can be romantic.
Head to the movies
Dating is easier if you aren't indulging in forced conversation for hours on end. If you head to the cinema the film gives you something to discuss. You can also discover a lot about a potential partner as you analyse the plot and reveal what you thought about the different characters in the movie.
Be open to new ideas
Sometimes a date will introduce you to a genre you have never tried before. You can be silly and watch a kids' movie together reliving childhood memories. It might be an idea to avoid things like extreme horror on the first date. In some cinemas, there are loveseats which can make things that much more accessible for some types of disability.
Consider alternatives
How about enjoying a theatre production of a musical or visiting a comedy club. Many people believe laughter is the best aphrodisiac!
Pro Tip: Prepare for the weather
Bear in mind what season you are having your romantic encounter and prepare your date if they are likely to need warm and waterproof clothing or sunscreen in the warmer months. Don't forget that watching a rainbow or sunset together can generate those loving feelings.
Dine out
Going to a lovely restaurant is a traditional date idea that has stood the test of time. Make sure you find out if your date has any specific dietary needs in advance. Any date needs to know if they need to work around food intolerances and lifestyles such as veganism. Fortunately, whatever the specific need, the chances are it is catered for at an eatery near you.
Pro Tip: Think about the loos
When arranging a date outdoors, ensure you know where the nearby toilets are. Nobody likes to be caught short and some disabilities mean someone needs to get to a loo that much more urgently. The very best toilet facilities will have adult changing facilities.
Check it out in advance
It's a very good idea to scope out the restaurant ahead of time. Look out for things like ramps and low tables. If your date is using a wheelchair, is there space around the tables and chairs? Restaurant reviews often will give you a good insight into whether they can cater to your needs. There is a Gourmet Guide online that gives you information on accessibility in restaurants.
Explore history
There are so many ways to revisit the past together on a date. Check out the accessible museums nearby. Museums are usually spacious with smooth and flat surfaces which are perfect to those with mobility issues. The best museums provide audio guides, large print leaflets and areas where exhibits can be touched which help the visually-impaired. Induction loops and transcripts of audio guides help the hearing-impaired.
Visit a stately home
The same things apply to stately homes which also often have the benefit of beautiful gardens to explore as well as the house itself. Some have vehicles like buses that can take visitors around the grounds. Anything historical provides plenty of opportunities for things to talk about if you are nervous about revealing too much of your life story on a first date.
Pro-Tip: Communicate openly
As with most dating matters, honest communication works best when it comes to dealing with accessibility issues. A wheelchair user may tell you the location of your dates needs to have no steps, wide doorways and accessible bathroom areas. Sometimes, access challenges can be resolved if you consult with the venue for the date in advance.
Avoid making assumptions
There are a very diverse range of disabilities out there so the main thing is to be honest about your requirements. Don't make assumptions that some date ideas will be impossible. Have a conversation with the person you are dating and trust their judgment when they say they can or can't do something you propose.
Get creative
Even if the person you are meeting has real limits on what you can do together, you can still have a fun time together. It is about being creative, compromising and not stressing things if plans don't work out perfectly. To be honest if you can do those three things on a date, it's a pretty good recipe for an amazing relationship.
Register for
Single Disabled