How to prepare for that first night with your disability date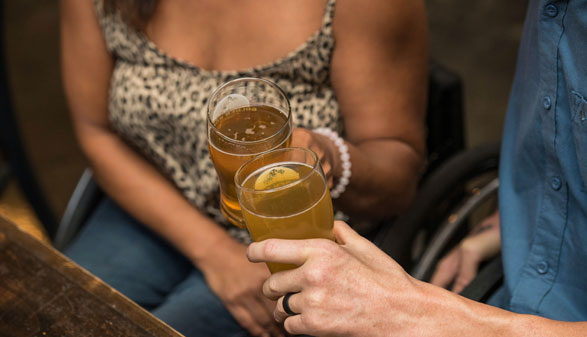 First night preparation
Thanks to the pandemic you've probably been all talk and no action over the past year. For disabled dating that's not necessarily a bad thing when you want to ensure someone has the right intentions. But with the promise of restrictions easing and the ever-growing anticipation that we might be able to actually touch someone again (gasp!) now might be a good time to think about preparing for that first night.

Whether you're able-bodied, deaf, in a wheelchair, or an amputee - sex with a new partner is always daunting! There's so much of the unknown, which is half the excitement of course. But whilst it would be great to just "roll with it" (no pun intended wheelchair users!) we have to be realistic about what an overnight stay entails according to your particular disability. So here's some pointers to consider.
Your place or mine?
It's probably going to be easier to stay at your place if you're the one with the disability. If you both have a disability, now's the time to chat about practicalities and who requires the most equipment/preparation leading up to bedtime.
Routines and requirements
It's a good idea to chat about your evening and morning routines in advance. If you have to take medication at certain times make sure they are aware of this so it's no surprise if you have to nip off quickly. If staying at theirs, ensure they have the correct facilities for you such as close parking, space in the fridge for medication, etc. Be open and honest about what you need to prevent unnecessary hiccups.
Educate
You may or may not have discussed the details of your condition, and you still might not be ready to delve into the complexities and that is absolutely fine. But it is worth noting any aspect of your condition that they may be exposed to during this stay that you haven't yet discussed. For example, removing your prosthetic limb to sleep, assistance getting in and out of bed, a preference for removing hearing aids before sex, etc. Clearing this stuff out the way in advance means there will be no awkward surprises. The more they know, the more understanding they can be.
Be vocal
Discussing sex openly can be really difficult in any sort of relationship, especially at the beginning. Understanding your own body, what you do and do not like and how you like to be touched is important. Equally, you need to be comfortable during sex to say if things are painful or need adjusting. If you can't communicate freely beforehand then perhaps you're not quite ready to take intimacy to the next level.

Remember sex doesn't always happen exactly the way we want it to and first times especially, are unlikely to be everything you want it to be. Learn to laugh off any mishaps or difficulties and try again. As long as you're both enjoying yourselves that's all that matters.
Register for
Single Disabled