How much to share about your disability on your dating profile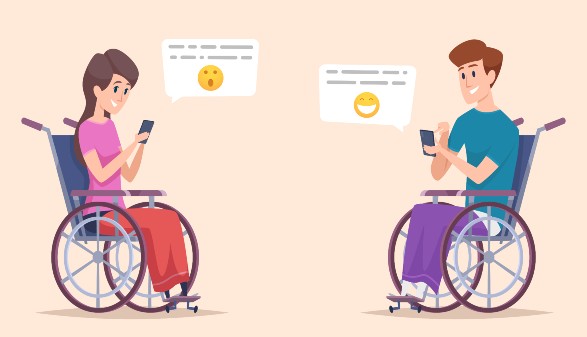 Honesty is always the best policy, especially when it comes to relationships, matters of the heart and in dealing with people. And while the world of online dating can seem vast and impersonal, it is fine to share certain truths about yourself. And this should not be an exception for disabled dating sites either.
Whether it is with regards to your online profile or if you get close to someone on a dating site, it is best to open up about your disability and how it might affect your relationship. After all, you are on the online dating site in order to find someone to connect with, and if all goes well, to spend the rest of your life with. So there is no point in hiding the truth about yourself or your disability.
So, how much information is too much?
This is a sensitive area and a personal choice, but the general rule of thumb is to be as open and honest about yourself, as long as you are comfortable doing so and aren't made to feel ashamed when revealing the truth.
The best part about online dating is that you can get to know the person and feel comfortable before actually meeting on your first date. Through online chats, phone conversations and video calls, you can gauge whether there is a future for this relationship. If you feel an instant connection and a sense of trust and openness during these phone calls and online chats, be as honest about your situation as you can. Wait for the second or third conversation, perhaps, when you are more at ease. It is pointless being secretive if you plan to meet your date in person a few days/ weeks later. On the contrary, he or she might gain more respect for you knowing that you were honest from the start.
On another note, if you are on a dating site for people with disabilities, then there is no reason to hide the truth. In fact, your date will also be wanting to open up about their disability.
How, when and where do I share this information?
Once you feel comfortable with your date, and feel like opening up a little more, it is time for you to decide the nitty-gritties of how you want to share the information about your disability with them. Would you be more comfortable telling them over the phone or via online chat? Or would you prefer telling them face-to-face? See how you feel about it and do what feels right for you.
How can I overcome my anxiety about sharing this information?
Dating for people with disabilities can sometimes be a little daunting, but with a positive attitude and some practice, you can overcome your anxieties and fears. If you want to gain confidence, practice what you are going to say to yourself or a close friend first.
Remember, if you are dating for the purpose of finding a life partner, it is imperative to be honest from the start. You would want the same thing from your partner too, wouldn't you?
Register for
Single Disabled