5 ways to make the most out of a disabled dating site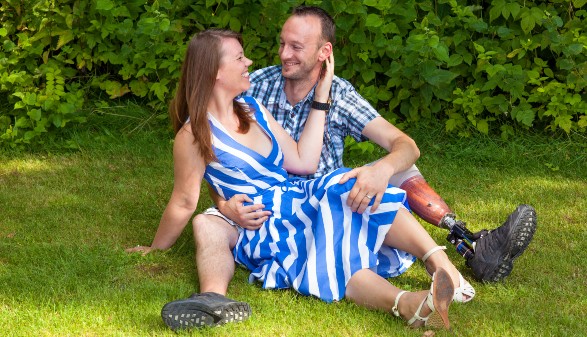 Are you looking for that special someone? Dating is challenging whatever your individual circumstances. You worry about what you look like and how you might come across to other people. You wonder what you will find to say to a relative stranger online and if you go on to meet offline. If you have had disappointing or abusive relationships in the past, you fear it is impossible to move on to happiness.
Entering the online dating world as a disabled person might feel like a gigantic leap of faith. These thoughts and feelings whilst understandable are ultimately self-sabotaging. It can appear that other people, including your colleagues, friends and family find it so much easier than you to find that amazing Adonis or pretty princess. Rest assured there is someone out there for you if you know where to look. You will see it when you believe it.
If you have a physical or emotional medical condition, you may feel you face additional barriers to finding love. For example, it is impossible to make eye contact if you are blind. You may have dips in energy, find it challenging to access particular places or need to have a carer with you much of the time. If you struggle with mental health difficulties, there will be times when you struggle to get through the day never mind going dating. However, all these things can be overcome and there are potential lovers out there who will understand.
It is important we recognise that individual disabilities are diverse. Indeed some people are born with a disability and some become disabled perhaps through an accident, terrorism or an unexpected illness. Do not give up hope as many people with disabilities find love with many discovering that their needs are best met via online dating sites. Now is a very good time to join dating sites and there are niche ones for people with disabilities. In this article we will consider the online dating landscape and give you 5 tips on getting the most out of specific dating sites for people with a disability.
Statistics on dating sites
Did you know that it is thought that more people will meet their partner online than offline by 2035 if current trends continue? This is according to the Future of Dating research carried out by online dating platform eharmony and the Imperial College Business School who interestingly pinpoint 2037 as the year when the majority of UK babies born will have parents who met via the Internet.
More and more relationships are starting online with 32% of romances started between 2015 and 2019 sparking online compared to only 19% between 2005 and 2014. With the impact of the global pandemic with lockdowns and many of us spending more time at home, online dating is likely to soar.
It is hoped that unfair discrimination against people with disabilities is decreasing with many awareness-raising initiatives over recent years. Many of us watched Channel 4's The Undateables for example. We saw how people with learning disabilities are as likely to want love as anyone else. Disabled people are sharing their stories via social media and on their blogs. Disabled people are more visible than ever and that is a very good thing.
5 ways to make the most out of a disabled dating site
So dating for people with disabilities is possible, and people are looking for love. Let's look at 5 ways of making the most out of a disabled dating site.
1. Believe in yourself
You are unique so will bring your special qualities to a relationship. If you lack confidence, ask family, friends and colleagues what they like about you. These are the very things to add to your dating profile. It is basic human psychology that if you say something a little quirky or amusing, you will capture someone's interest. Any time spent building up your self-esteem will speed up the process of you finding your match. Make the time to read books and listen to podcasts that work on confidence issues.
2. Take it easy
Don't set your expectations too high. You may not meet Mr or Ms Right immediately but you may have a lot of fun and make firm friends on your dating journey. Be aware that you may have a notion of what you find attractive but often if you are not too hung up on that, someone perfect shows up. You may fantasise about a tall partner but fall for a short one. With online dating you can take things at your own pace deciding who you will meet and when. Online dating has benefits for you if you are a little introverted as you can build up that connection and trust in a safe and slow way.
3. Look in the right places
It is so much easier to seek your date on a niche disability dating site. People who also have a medical or physical condition get it. They know you cannot necessarily do everything you might wish to. They understand if your energy dips, you need special equipment or your disability rocks your self-esteem. It is arguable that it is easier to be open and honest about your challenges on a disabled dating site than on a generic one. Sadly disabled people have found that as soon as they mention their condition in conversation on dating sites, they do not receive a message back. The chances of that happening on a niche dating site are that much less.
4. Make your profile stand out
Potential dates will be trawling through a number of profiles on a dating site. You need to stand out with a fun username, honest pictures and a healthy dose of self-esteem even if you fake it until you make it. Humour works well so try to make viewers of your profile giggle. Saying you have a good sense of humour does not cut it. You need to show them that you do. For example, one woman said her bottom deserved a Twitter account all of its own!
5. Be realistic
How far can you realistically travel for a date? There is little point falling for someone online if you cannot get to see them in real life. Most people on dating sites come with a degree of baggage whether that is emotional hang-ups or that they have children. Work out what you are happy to accept and what the deal-breakers would be for you. If you get a gut feeling that you cannot move on with a particular person, be honest and say so kindly. Work out what qualities it is essential for a potential partner to have. In the long- term those will matter far more to you than a particular look or sense of style. Also be very clear how much money you are prepared to invest on dating sites. Most offer a free option but if you want the better services you will have to pay. Work out what you can really afford to spare for this particular leisure activity. Do remember dating also comes with costs attached if you meet for a drink or a meal.
Disabled dating site case studies
Chris is a homosexual man who was not always disabled but became so in later life. He was wheelchair bound at times and at his most able needed to use 2 walking sticks. He explains;
"I went into a gay bar early so I could perch on a bar stool as it was practically impossible for me to lower myself onto the lower seating available. I hid my sticks so that I would not appear disabled. People don't realise the stigma disabled people can feel due to prejudice and discrimination against them. You are at your most vulnerable when trying to find love and companionship. So I am ashamed to say I hid my disability. I did meet someone, bought him a drink and chatted. When he suggested taking things further I dashed to my car and made a quick exit."
Chris now finds he has better success by taking advantage of the benefits of disabled dating sites.
Catherine is a straight woman who looked for a new relationship after escaping a controlling marriage. She joined a dating site and found this made it easier to reveal her mental health difficulties and incontinence issues.
"I knew I had found someone worth meeting when they did not bat an eyelid about my physical and emotional issues. They were genuinely interested in me as a woman in my own right"
In conclusion, having a physical, sensory or other impairment or long term condition should not put you off looking for the person of your dreams. Disability like race and sexuality is part of your identity but does not define you. You have your unique personality with all your amazing skills and qualities that someone out there is ready to fall in love with. Whether you are looking for a sexual adventure or marriage, dating sites for people with disabilities are your friend.
Register for
Single Disabled